Main Street Visual and Performing Arts Magnet grade five students are painting on the walls, but there's no reason to be alarmed – it's considered a normal day of experimentation at school, which has for motto "Where learning and creativity are one."
"The school wanted to brighten up their atmosphere since they just moved here," teaching artist Jeri Hillis, who was brought in to teach mural painting by Arkansas Learning Through the Arts, told The Sentinel-Record.
The mural will represent the arts culture of the school, a place where theatre, dance, broadcasting, visual arts, technology, vocal and instrumental music, and physical education are intertwined in their curriculum.
Hillis said 107 fifth graders helped paint the artwork.
https://www.youtube.com/watch?v=/Un-I922uZqo
Video not playing? Click here https://www.youtube.com/embed/Un-I922uZqo
"I work hard with fifth-grade teachers in this area," she said, noting that students come to her from two separate classrooms throughout the week, alternating five students at a time and about 25 students per day.
"Little mouth goes off, artist brain lights up, bam," Hillis said. "This is the very first pilot program (of) wall painting in school. We teach them about history and culture. And culture is history."
Student Immanuel Boyd said, "The mural we are doing shows culture and it will brighten up the wall and add color to it."
"It's like American culture and it shows how fun it is to be American and how free we are. I think it's fun to see, 'Oh yeah, I worked there- on it and I helped with it,'" student Madison Dulaney said. .
"It would be nice to do more here. This administration has been very welcoming," Hillis said.
Takerra Johnson, left, paints part of a mural at the Main Street Visual and Performing Arts Magnet School as Madison Dulaney holds a container of paint. – Photo by Tanner Newton of The Sentinel-Record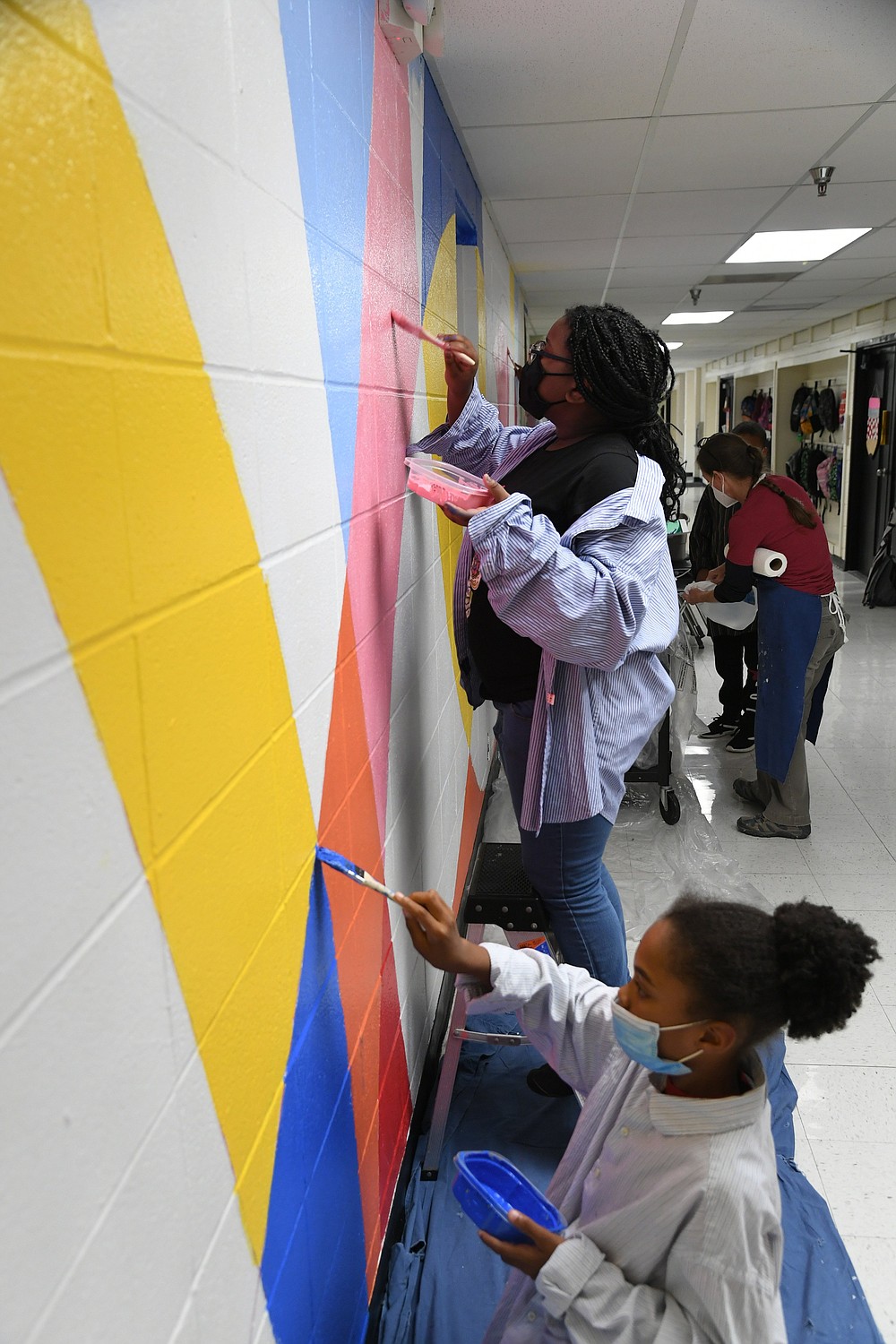 Kayden Rochelle, front, and Rayvione Clark, help Jeri Hillis, back, paint a mural at the Main Street Visual and Performing Arts Magnet School. – Photo by Tanner Newton of The Sentinel-Record